Houston Analytics, a leading European provider of advanced analytics skills and solutions, redesigned its brand identity to better reflect its international growth and breadth of data science solutions. Today, Houston Analytics officially reveals its new logo and logo design.
With 6 years of history it was now time to retire the previous logo and re-design the brand identity to better represent the current capabilities and future ambitions of Houston Analytics' expanding international team. The new logo design is a continuum to the company website renewal that took place in August 2019.
Since its foundation in 2013, Houston Analytics has been on a mission to industrialize data science and power the businesses of today and tomorrow. By partnering with global technology vendors and industry specialists, Houston's Mission Team has been called in to develop high value, novel analytics solutions for major projects for international clients.
"The renewal of Houston Analytics' brand identity is an important message towards our clients, partners, employees and aspiring future houstonian's considering joining our team. We want to show them the high ambitions in everything we do at Houston Analytics" says CEO Antti Syväniemi
Besides improving the fonts used in Houston Analytics' logo for enhanced readability, the goal was to create a design to reflect Houston's brand identity and way of working.
Crowd-sourced logo design process
To come up with the new design, Houston chose a crowd-sourcing platform 99designs and set up an open contest where designers from around the world were invited to submit their entries. Overall, over 700 logo entries were submitted based on the brief provided by Houston.
"We were astounded by the amount of attention our design contest received. We received more than 10 times more entries than what was initially expected and the quality of designs submitted was stunning" – commented Chloe Ashworth, who managed the design process at Houston Analytics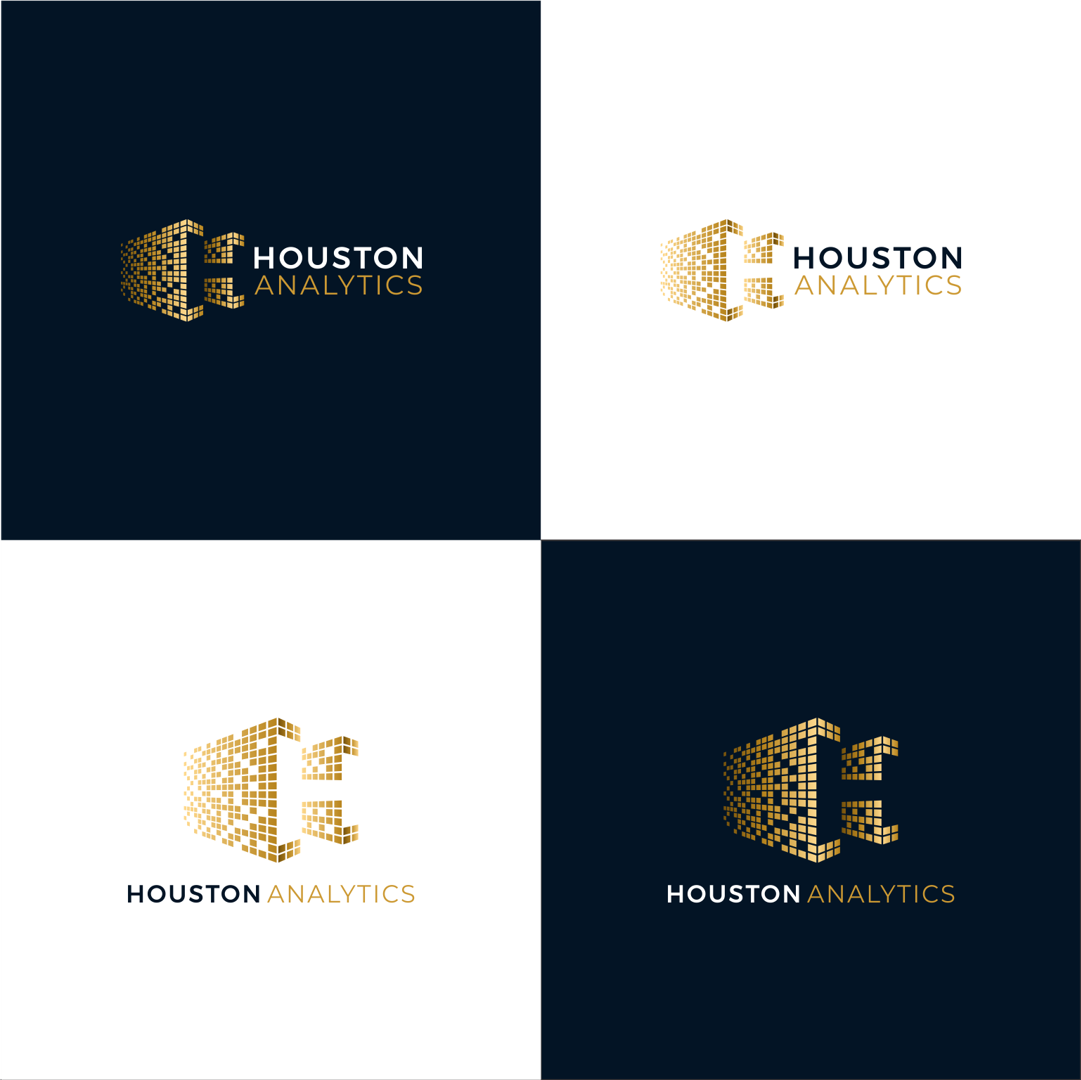 The winning design was submitted by one of the Top Level rated designers of the platform, alias CostinLogopus:
I wanted to make a logo that is related to artificial intelligence, information, data. I used dots to represent that. A dot=1, a missing dot=0. The Houston Analytics' new logo concept applies a negative space used to cleverly create the H design, capturing the expertise Houston Analytics has in the technology and data science domain. Also the design conveys dynamism, speed and fits very well with Houston Analytics "space theme" that Houston's name is often associated with.
The dotted design element of the logo also nicely connects with Houston's working methodology, which brings data science and AI powered solutions into reality in a business-oriented and systematic way.
Analytics and AI are often most valuable when someone needs to make a decision.
At the start of a new analytics project, Houston Analytics' team facilitates end client's team to identify business critical decision points and their related questions, which then serves as a guidance when crafting the necessary insights to inform, automate and optimize those decisions.
The logo and brand identity renewal remarks an important milestone of Houston Analytics journey
Houston Analytics 6-year history is full of remarkable achievements.
Previously, company has been recognized by american research company Forrester as the only Nordic company in vertical specialist category of Customer Analytics Service Providers. With in-depth understanding of industry-specific use-cases, market forces, data and data science methodologies, the industry specialists are best positioned to provide tailored niche solutions to their clients.
In the industry sector, Houston's team have been collaborating with several global industry leading companies and leveraging data & analytics to improve asset reliability, availability and efficiency. Many of these international clients prefer to not publicly disclose any of the details of their advanced analytics projects due to their strategic importance.
Houston's outstanding performance and commitment towards transforming clients into the cognitive era has also been recognized by technology partners. In 2017, Houston Analytics won IBM Choice Award for High Performing New Business Partner, Europe award.
New missions ahead
In reference to the future directions, Houston's team is currently working on a new AI platform called AIROMI for media purchase execution. The solution is a result of a collaboration of Houston Analytics and Omnicom Media Group. In just a month after its launch, this new service has built a queue of 37 major clients looking towards revolutionizing their media purchase processes.
Driven by the growing reputation across industries and data science applications - Houston Analytics' growth is gearing speed in various regions. Currently, the most utmost region Houston serves is Australia, where it collaborates with one of the worlds largest mining companies. Biggest growth is currently expected to happen in Sweden - where the company expects to grow its data science team to serve expanding client base.